14 Apr

Tiffany Johnson's Story

When Tiffany Johnson and her husband disembarked from their MSC cruise at their last stop in Nassau, they were excited for a day of fun exploring the island and snorkelling the stunning turquoise waters of The Bahamas. They found a local tour operator to bring them parasailing and snorkelling to a site with a large reef that was about a 10 minute boat ride from Paradise Island. Unfortunately, that's when Tiffany's nightmarish ordeal began: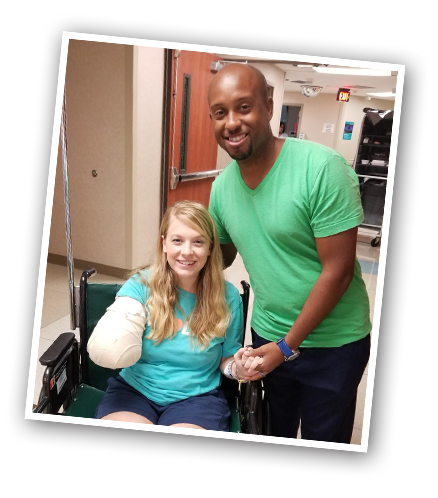 "I was attacked by a shark while snorkelling that resulted in the loss of my right arm up to my elbow. There was no medical kit on the boat, so we used a beach towel as a tourniquet for my amputated arm. There was also no radio on the boat, so when we arrived at Paradise Island, we had to flag down people and get their attention for what seemed like several minutes before they understood how severe the incident was and then told us that we had to go to the main port.
Nobody from Paradise Island let anyone know on the main port that we were coming, so when we arrived, we had to go through the same process of flagging people down and getting them to realize that we needed an ambulance.
We were on that boat from the reef to the stop at Paradise Island to the main port for about 30 minutes with no tourniquet and only a beach towel to stop the bleeding. Medically, it does not make sense why I am still alive – it is only by the grace of God!
We were taken to Princess Margaret hospital in Nassau – the medical staff were very nice, but everything felt disorganized and chaotic. The doctor told my husband when he was done that we needed to get back to an American hospital as soon as possible because I would need an additional surgery as they couldn't even close up the wound because of the swelling.
My husband filled out a few different forms at the hospital, but they never asked for our insurance information. My husband spoke to a police investigator, a rep from the U.S. Embassy, a rep from the ministry of tourism, and the water sports company owners on the details of what had happened.
I was in so much pain throughout my stay at the hospital in Nassau that I could not even shift my weight in the bed because it was unbearable to move. The meds they gave me only lasted for about an hour or so and I had to wait four to five hours in between doses.
The next morning was filled with phone calls to get us out of the country talking with the U.S. Embassy and U.S. Customs. My husband was told by U.S. Customs (once they went through a few levels) that they would allow us back into the country, but the airlines have their own policies and they wouldn't let us on even though U.S. Customs approved.
My husband spoke to the ministry of tourism to try to find a way out of the country as well, but all the efforts came up empty. I even suggested to get on another cruise line to get back.
We got a call from our Pastor back in Charlotte, NC saying he had reached out to an acquaintance in Bahamas that pilots air ambulances and deals with medical evacuations. Our Pastor worked with Mr. Gibson from BahamasEvac Services to sort out and organize the details of getting it approved for us to get out of the country.
Since we did not have passports and the U.S. Embassy was closed because of the Holiday on Friday, closed through the weekend, and closed Monday for the extended holiday – they told us it was impossible to go anywhere until Tuesday since that was the earliest the U.S. Embassy was open to issue us emergency passports.
However, once BahamasEvac Services got involved it made for a much less stressful experience. They were able to easily organize our air ambulance repatriation to an American hospital so that I could get the next steps in care that I desperately needed. What they had told us would take a few days to accomplish, was able to be done in a few hours thanks to Mr. Gibson and his team."
Tiffany's story illustrates just how crucial the services that BahamasEvac offers are. Our years of experience dealing with medical emergencies and ability to dispatch quickly not only saves lives, but also makes for a much less stressful experience overall for our patients.
The lack of emergency protocols in place led to not only a very disorganized and chaotic process, but also to one that could have resulted in loss of life for Tiffany due to the severity of the incident.
Unfortunately, situations like this where proper emergency protocols are not in place are not uncommon. Getting the correct medical care during an emergency while abroad can also often be a lengthy and exhausting process. Even when proper protocols are in place, navigating the medical system can still prove quite difficult if you are unfamiliar with it.
We have spent years building up a medical network throughout the region, which enables our team to seamlessly organize the logistics of our patient's medical care regardless of where they may be.
Mrs. Johnson was incredibly lucky to have survived this injury and although her story has a happy ending, many others do not. If BahamasEvac Services had been contacted earlier, the entire process would have been much less traumatic and more efficient. At BahamasEvac we aim to reduce stress levels during a medical emergency by being prepared in advance to respond and connect our patients to lifesaving medical care as quickly as possible.